Malmö International 2019
8.6.2019 – 9.6.2019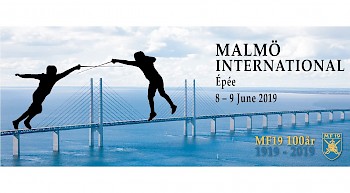 Kilpailukutsu >
Ilmoittautumiset Ophardtiin kautta 29.5.2019 mennessä. Kilpailuun ilmoitetut miekkailijat >
-----------------------------------
Fencing friends,
Malmö Fäktklubb av 1919 invites you to the fencing competition Malmö International (former Ystad International) June 8. – 9. 2019 in  Malmö Sweden (near Copenhagen). The tournament is a part of the national ranking in Norway and Sweden.
On Saturday
women's and men's epée
veterans epée (born 1979 and earlier)
It's possible to participate in both seniors and veterans epée.
Veterans women have pool round with seniors (two entries, but only one entry fee).
Veterans men not participating in the senior competition have one mixed pool-round (ranking round) before the regular veteran competitions. Veteran entries in two classes, senior + veteran or veteran mixed  + veterans 40 …
On Sunday
women's epée team
men's epée team (also open for women in men's team)
Club teams or teams with fencers from different clubs. Let us know if you want to fence in a mixed team.
Visit and share https://www.facebook.com/events/330155637806012
Best Regards
Hans Wahl
Member of the Organising Committee
Ladattavat tiedostot:
« Takaisin